Mashreq and noon.com announce strategic partnership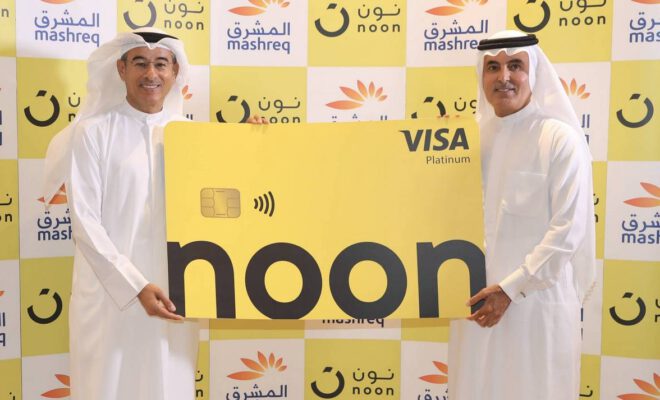 UAE's first e-commerce co-branded card Mashreq noon VIP Visa Card will be launched.
Dubai: Mashreq, one of the leading financial institutions in the UAE, and noon.com, the region's premier homegrown e-commerce platform, have announced a long-term strategic partnership to redefine the digital payments experience for UAE consumers.
The joint venture will combine Mashreq's award-winning digital banking capabilities, and noon's leading e-commerce platform in the regional market, ensuring that customers can access a 360-degree range of services that is catered to customers' lifestyles – all while making the digital experience secure and rewarding.
The first leg of the partnership will kick off with the launch of the 'Mashreq noon VIP Visa Credit Card', the UAE's first e-commerce co-branded credit card. It will offer customers a wide range of benefits including 3.5% cashback on all purchases at noon, 1% on all other domestic and international spends, a joining bonus of AED 500, and zero annual fees. Additionally, cardholders will receive exclusive noon privileges including free delivery on all noon express orders, complimentary discounts at multiple merchant and retail partners, and 0% interest rate for the first six months.
Customers in the UAE can apply for the card with zero paperwork through the bank's digital platforms, receiving a digital card in as little as three hours.
"The region's e-commerce landscape has rapidly evolved in recent years, but it has significantly accelerated over the last few months as people increasingly shop online due to the Covid-19 pandemic. This milestone partnership between Mashreq and noon – two companies with a shared commitment to make the lives of customers easier through digital-first innovation – reflects this burgeoning market, and will serve to simplify the online shopping experience for consumers navigating an increasingly digital world," said Abdul Aziz Al Ghurair, Chairman, Mashreq Bank.
Mohamed Alabbar, noon, said of the partnership: "I firmly believe our market is on the cusp of a large e-commerce revolution, one which the pandemic will only accelerate. Noon was created to provide the people of this region with a local player they could rely on, offering an incredible service and experience. Over the past few months noon has experienced its own growth, becoming a much-needed and loved utility. People are shopping online with increased vigor, trust and need."