DP World and Israel's Bank Leumi sign collaboration pact to boost trade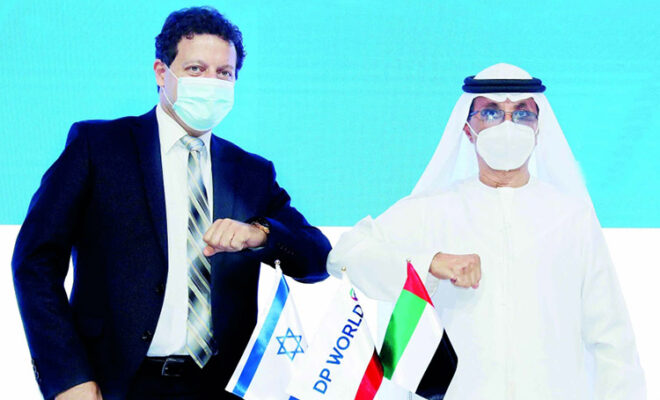 The pair will work together to identify opportunities to develop ports and logistics assets
Global ports operator DP World and Israel's Bank Leumi signed an agreement to work together to improve trade and logistics in the country and to promote the flow of trade between Israel and the wider Middle East region.
The pair will work together to identify opportunities to develop ports and logistics assets in Israel, to simplify working capital requirements through trade finance to improve cargo flows and to use technology to improve supply chain efficiencies in the logistics sector.
"The new relationship between [the] UAE and Israel brings opportunities to increase trade and prosperity in the region. Working in partnership with a reputable financial institution such as Bank Leumi will enable us to better deliver our end-to-end solutions strategy," said DP World chairman and chief executive Sultan Ahmed bin Sulayem.
This is the latest in a series of agreements between UAE and Israeli companies following the signing of the Abraham Accord between the two countries in Washington DC last week.
DP World already agreed with Dover Tower, whose owner Shlomi Fogel co-owns the Port of Eilat and Israel Shipyards, to develop trade infrastructure, while Bank Leumi is looking to work with UAE lenders Emirates NBD and Abu Dhabi Islamic Bank. Abu Dhabi Investment Office also said it would open its first international office in Tel Aviv last week.
Bank Leumi was Israel's former central bank until 1954 and is currently the second-biggest lender in the country by assets, with a 30 per cent market share.
"We, at Leumi, believe there is a golden opportunity for collaboration between businesses in Israel and the UAE, and we intend to be an active party," said Hanan Friedman, the bank's president and chief executive. "In DP World, we believe there is great opportunity to partner with a world class operator to drive efficiency and trade in Israel and beyond."
The UAE's Minister of Economy Abdulla bin Touq last week said "everyone will benefit" as a result of the accord signing between the UAE and Israel, with greater co-operation expected in sectors such as health care, food security, aviation, finance, tourism, energy and science and technology.
The UAE estimates that between $300 million to $500m (Dh1.1 billion–Dh2bn)of business deals could transpire as a result of the normalisation of relations between the two countries, with Mr bin Touq stating that an exact figure would be announced soon.
Source: thenational.ae